Your Service Partner
LASER COMPONENTS values its above-average customer service. Our sales representatives are in direct contact with our production facilities and premium suppliers.
We have even set up our own service centers to guarantee customers fast repairs and calibrations. Use our crimp & cleave service center, our calibration service for laser power meters, and our many other services.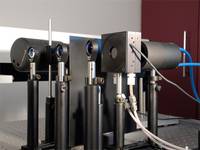 Calibration Laboratory Power Meters
The management and calibration of inspection equipment contribute to an increase in production quality and the avoidance of defective goods and extra work. Several norms and regulations (the ISO 9000 norm series, ISO TS 16949, QS9000, VDA 6.1, ISO 13485, etc.) demand the integrated management of inspection equipment. Also, according to the product liability law, a quality-based measuring task has to be executed with appropriate, intact, and reliable inspection equipment.
The calibration of measurement equipment and thus the traceability of measurement and test results to national standards is a basic requirement for every quality assurance system.
LASER COMPONENTS has been offering its professional calibration service since 2004 for power meters manufactured by Gentec-EO.
Gentec-EO runs its own calibration laboratory at its headquarters in Canada. LASER COMPONENTS runs the European calibration laboratory in Olching, which was set up in close collaboration with Gentec-EO.

LASER COMPONENTS offers its calibration service for the following devices manufactured by Gentec-EO:
Thermal power detectors
Pyroelectric energy detectors
Monitors
Laser Components' scope of calibration service includes the following:
Visual inspection (inspection of incoming goods)
Determination of the individual wavelength profile (all detectors)
Calibration against the "gold standard" reference, traceable to the NIST (all detectors)
Verification measurement
Storage of the sensitivity value and correction factor in the detector's EEPROM
Calibration certificate including the variance report

Measurement Setup
Laser Components' measurement setup is identical to that of the Canadian manufacturer's. Gentec-EO carries out comparison calibrations on a regular basis between its own calibration laboratory in Canada and the calibration laboratory at LASER COMPONENTS GmbH in Olching (the round-robin principle).

Traceability
Laser Components' calibration service ensures traceability to the National Institute of Standards and Technology (NIST) and the Physikalische Technische Bundesanstalt (PTB) (Physical Technical Federal Institute). The calibration process includes the requirements of the ISO 17025.

Calibration Process
The calibration process is carried out with the aid of a laser source on a partially-automated measuring station directly against a "gold standard" detector. This reference detector is regularly calibrated at the NIST or PTB. Due to the exclusive application of a "gold standard" reference, LASER COMPONENTS achieves, as does Gentec-EO, unique precision in the calibration process (first-level calibration). Many other suppliers calibrate the detectors using only a "silver standard" detector (i.e., using a self-made and correspondingly imprecise "copy" of the "gold standard") (second-level calibration).
As part of calibration, an individual wavelength profile is created for each detector with the help of a spectral photometer. The sensitivity and wavelength correction values determined are then stored in the EEPROM, which is contained in the connector of the detector.

Documentation
The results are documented on a detailed calibration certificate, on which the detector's sensitivity determined during the previous calibration is also noted for purposes of comparison (variance report). As part of a recalibration, this documentation is carried out as a service free of charge.

Processing Time
All users located in Germany and the rest of Europe who use this laser measurement technology will enjoy the cost reduction and time advantage that this calibration service offers. There is no need to ship expensively to Canada. The processing time of a calibration at LASER COMPONENTS typically lasts 5 to 7 working days.

In addition to the highest damage thresholds available on the market, a fine-tuned range of detectors and monitors, and our in-house calibration service, we provide yet another argument in favor of using Gentec-EO's measurement technology.
For more information please contact us.