Your Service Partner
LASER COMPONENTS values its above-average customer service. Our sales representatives are in direct contact with our production facilities and premium suppliers.
We have even set up our own service centers to guarantee customers fast repairs and calibrations. Use our crimp & cleave service center, our calibration service for laser power meters, and our many other services.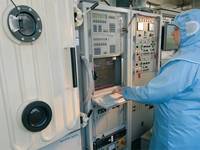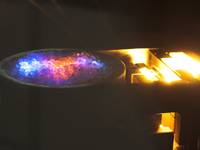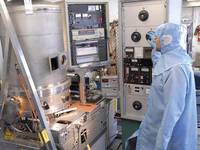 Job Coatings
LASER COMPONENTS offers job coatings for all standard and custom coatings. For example, we made a name for ourselves with complex laser coatings and the coating of adaptive mirror substrates (i.e. substrates that can actively adapt their surface). Customers can send us their own substrates for coating. Coatings in the range from 193 nm to 5000 nm can all be done.
We coat our own as well as customer supplied substrates with diameters ranging from 4 to 200 mm. Our own machine shop can manufacture holders for substrates with special dimensions.
Rush jobs within 24 hours are available upon request.
IAD Coating for High Power Laser Optics
The high quality of our ion-assisted deposition coatings for high power laser optics leads users to ever bolder applications. We know from our customers that a permanent exposure to a laser with 2.5 J/cm<sup>2</sup> at 1064 nm (90 ns pulse length, 1 kHz repetition rate) does not harm the IAD layers.
In this particular case an output coupler for an Nd:YAG laser has been IAD coated. The high damage threshold is necessary because the laser beam hits the output coupler with an extremely small beam waist.
During the IAD coating process the layer growing on the substrate is shot with oxygen or noble gas ions. This allows the coating material to be distributed evenly and very compact on the substrate surface.
Water molecules have virtually no opportunity anymore to enter the dielectric layer. Therefore, IAD coatings are particularly suitable for the wavelength range from 1 – 3 µm (where the high light absorption of the incorporated water is dramatically noticeable using conventional mirrors).
All users can benefit from both the low drift of the spectral properties during thermal stress and the high mechanical and chemical endurance of the layers.
IBS Sputter Coating
In the sputtering method, noble gas ions are shot at the coating material.
The impact of the ions disperses the material, which subsequently settles on the substrate to be coated. Due to their extremely high kinetic energy the impacting particles are very mobile. This mobility aids in the filling of holes and the avoidance of any defects in the growing layer. This ultimately leads to the formation of exceedingly smooth and, in their optical properties, particularly homogeneous layers.

Using this coating method several hundred layers may be placed on top of each other, creating optical coatings for selected requirements.