Bulletin d'information
La lecture de notre bulletin d'information, Photonics News, vous maintient à jour. Toutes les nouvelles technologiques et nouveautés produits, aussi bien que l'information sur l'actualité de LASER COMPONENTS sont disponibles sous cette forme concentrée. Souscrivez aujourd'hui - gratuitement !
Photonics News Magazine - Issue 76
Download the German Photonics News as PDF - Download
Recherche par code Web
Use our webcode search to quickly find the article you are looking for
An eventful year...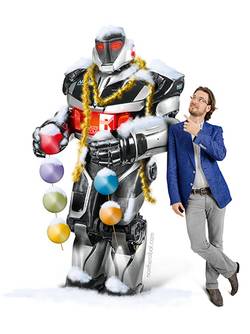 ...is coming to an end and already we can tell that it is going to be yet another record year for LASER COMPONENTS.
The goals we have achieved play a more crucial role in the evaluation of our success than bare numbers. In 2015 we achieved our most important organizational goals and secured the future of our IT landscape. Thanks to an electronic archiving solution designed to meet our specific needs, we now have less and less paper floating around on our desks. This system was integrated smoothly into our existing IT structure. We met the requirements for further growth organizationally and technologically and will head into the coming business year fully motivated.
In the fall many people around the country celebrated 25 years of reunification in Germany. We would also like to take this opportunity to share our personal stories surrounding this historical event. The fall of the GDR and the subsequent reunification of both German states marked the beginning of positive business development for Laser Components toward the end of the 1980s.
New business relationships with customers and suppliers in the new federal states were established that contributed to the continual sustainable growth of LC. Several employees have come to us over the years and made a significant impact. Some came as early as 1990, and a few of them are still with us even today.
The tale of one individual's account of the fall of the Wall, sprinkled with several anecdotes, will hopefully bring you back to an epoch in history that ultimately shaped all of our lives.
Our international business partners in particular ask us again and again about German reunification, and everyone is interested in the answer to the question of whether the period of adjustment is now over.
From our side, we can say with clear conscience that the fusion within the laser and photonics industry has been complete for some time now. The differences in the people and companies between eastern and western Germany are not any larger than the differences in culture between northern and southern Germany. Both unity and regional diversity characterize Germany today and make it home to people from all over the world. If only it were as simple as in our industry...
Ihr

Patrick Paul
Geschäftsführer, Laser Components GmbH
The World's Longest Railway Tunnel
News-Ticker
Arden Photonics
25 Years of Reunified Germany – and Photonics
Agile Medium-Sized Companies and IT
Pas d'article dans la liste.
New Products
Abonnez-vous à la dernière Photonics News
Si vous souhaitez recevoir régulièrement des mises à jour et des informations sur nos produits et services, abonnez-vous gratuitement à notre Photonics News Newsletter et restez informé !