Suppliers
In order to provide our customers with the widest range of products, we work closely with premium suppliers. One of our strengths is our ability to jointly develop customer-specific solutions, which make up 85% of our total revenue. Our experience and the composition of our supplier pool make it possible for us to develop projects in which we are able to offer complementary components or entire modules. Test our products for yourself and have a look at our partners.
Suppliers of Laser Components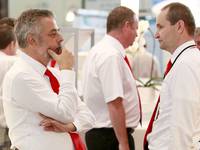 The LASER COMPONENTS Group has established a worldwide sales network of own sales offices, distributors, and manufacturer's representatives. Our aim is to offer you a complete line of lasers and opto-electronic components and frequently inform you about news and new developments of our supplying partners.
Frequent product and application trainings and our knowledge acquired from our own production sites have made us a respected partner for new system developments together with our customers.
Our strengths are custom component developments rather than standard products. More than 85% of the group's revenue is generated through such OEM business.
LASER COMPONENTS Partners
It is important to us to make a detailed introduction of our partners. On this page, you will find the suppliers we work with at LASER COMPONENTS. Click here to see for yourself!
For a better overview, we have sorted our suppliers according to product groups!