Laser Modules
The Blau Optoelektronik GmbH is an important member of the LASER COMPONENTS Group. For more than ten years they have developed and manufactured laser diode modules and optoelectronic measurement systems.
Laser Modules
LASER COMPONENTS GmbH, Germany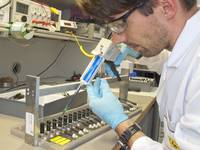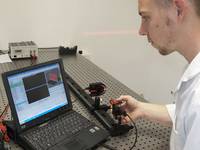 Laser modules have been manufactured at our headquarters since 2010. Blau Optoelektronik and LASER COMPONENTS work together on production, and our customers profit immensely from this collaboration. The highest quality is available in the shortest delivery times. Whether ordering single pieces, small series, or large series with more than 1,000 pieces, each individual request is processed reliably.
No Two Modules Are the Same
Our specialty is the production of customer-specific laser modules. You can select from many options. Some examples include the following:
Wavelength
Beam profile
Power
Housing and the shape of the module
Connection
Power distribution
Together we will find the optimal solution for your application. And at prices that will prove to be a pleasant surprise.
Why use a FLEXPOINT® Laser Module?
Because these modules are quite simply the best! By manufacturing the FLEXPOINT® modules in Germany, we can offer lasers of the highest quality.
Electrically isolated housing:
All modules have an isolated housing. That is to say, the operating voltage is not connected to the housing. This guarantees an unproblematic (electrical) assembly of your system.
Reverse voltage protection:
All modules are protected against an inversion of + and -.
Electronics:
In the FLEXPOINT® modules only electronic circuits are used that are developed by us and not somewhere in the Far East in mass production. Each circuit contains a safety feature to protect against surges and voltage peaks.
Laser safety, CE, RoHs:
All FLEXPOINT® modules are CE certified and conform to RoHs regulations. The laser class of each module is specified according to DIN EN 60825-1. Our product engineers will be more than happy to advise you on laser safety regulations.
Director of Production
Florian Gerg
Florian Gerg, certified as an electrical technician, heads the optoelectronics production groups. His vast experience in assembly and packaging technology ensures reliable and novel customer-specific products.