Your Service Partner
LASER COMPONENTS values its above-average customer service. Our sales representatives are in direct contact with our production facilities and premium suppliers.
We have even set up our own service centers to guarantee customers fast repairs and calibrations. Use our crimp & cleave service center, our calibration service for laser power meters, and our many other services.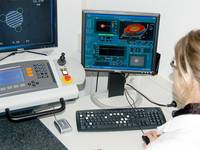 High Precision Interferometric Measurement
If you would like to have your optical components measured interferometrically in just a short period of time, you came to the right place.
We at LASER COMPONENTS provide measurements using the best measuring device available on the market, the VeriFire-AT from Zygo with a high resolution camera. This instrument has the new, patented "Ring of Fire™" illumination system, with which undesired interference phenomena can be eliminated. This new system allows for a reproducibility not previously achievable with older instruments.
LASER COMPONENTS works with the up-to-date MetroPro software, likewise provided by the manufacturer Zygo. With this software, a variety of readout options, such as those compliant with ISO 10110 requirements or those according to the old DIN 3140 standards, are available. Upon request, measurement results can be displayed both as a data file and as a PDF with a measurement image.
The measurement tools used allow for a reliable measurement up to l/20. Your measurement substrates may be coated or uncoated, and they should have a diameter of 5 mm and up. Depending on the diameter and radius of the lenses, partial areas or the entire surface can be measured. Normally, measurements can be carried out within two business days after receipt of the goods. Feel free to contact us!