Company Newsletter
Reading our company newsletter, Photonics News, keeps you up to date. All technological and product news, as well as current information about LASER COMPONENTS, is available in concentrated form.

Subscribe today – for free!
Photonics News Magazine - Issue 79
Download the German Photonics News as PDF - Download
Webcode Search
Use our webcode search to quickly find the article you are looking for
The right decision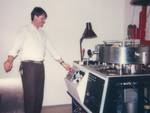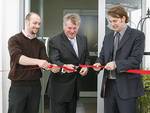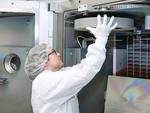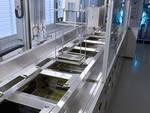 Did my father know the important impact the decision he made thirty years ago would have today?
Probably not. Although he has proven on many occasions over the course of his professional career that he has an excellent nose for business, he still could not have known thirty years ago that his decision to build a production facility to manufacture laser optics would be the reason that the company is as successful as it is today.
Thirty years ago, Laser Components earned its money exclusively in the sale of components. In-house production was developed very laboriously over time, with many setbacks and large investments. Today, in-house production is the backbone of the entire corporation and is what makes the preexisting sales side of this business possible. Laser Components has always specialized in the sale of complex custom components. A highly customer-focused consultation service team that is made up of experienced and well-trained personnel makes this possible. In the age of the Internet and transparent global markets, it would be increasingly difficult to maintain this level without our successful products which are developed in house. However, we have managed to make our production facilities, which are distributed throughout the world, quite successful; we now complement our product range with products from selected third party manufacturers. And all of this began thirty years ago with dielectric coatings for laser optics.
Together with a former supplier, we developed the idea of bringing production to the German market. The first coating system was sent to Germany from the U.S.A. and immediately put to use. The department has, in the meantime, rapidly expanded and introduced other coating methods. We have also manufactured our own substrates at Laser Components since 2008. Our optics have continuously improved and made an important contribution to the development of laser applications today.
The Laser Components Group has more than 200 employees worldwide, more than half of which deal directly with the development and production of components or modules. Over 65% of our turnover can be traced back to in-house production. Celebrate the 30-year anniversary of this very important milestone with us and profit from our one-time sale for laser optics available in stock.
Yours,

Patrick Paul
General Manager, Laser Components GmbH
Lasers in Medical Technology
Optical Fibers for Medical Applications
Certification according to EN ISO 13485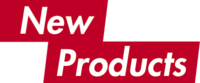 Subscribe to Photonics News
Would you like to receive regular updates and information on our products and services? Subscribe here for our free Photonics News Newsletter and stay up to date.