6th International IR WORKshop an Outstanding Success
27.11.2019
Everything You Need to Know About IR Technology
Bedford, NH, November 15, 2019 – LASER COMPONENTS held their 6th annual International IR WORKshop on October 29-30, 2019. Organizing partner MIRTHE+ Photonics Sensing Center provided this year's venue, Princeton University, an ideal facility that created a collaborative environment. Researchers and industry leaders from the US and Europe exchanged their knowledge and expertise on the latest developments in all fields of infrared technology. 30 speakers and 16 poster presenters covered developments related to all IR products. Attendees followed the presentations engaging in detailed discussions during the Q&A networking sessions, uniquely embedded into the program.
Highlights of the workshop included all aspects of the latest in IR technology. Davorin Babic, director of R&D for Laser-Components Detector Group, presented an overview on the most recent research projects of his company. In addition, Four PhD candidates were presented awards in recognition of leading-edge research having very practical applications.
"The WORKshop provided the opportunity for researchers, entrepreneurs, and representatives of established organizations to share ideas. Data driven presentations produced thought provoking conversations between seasoned photonics veterans and those just starting out", says scientific and event coordinator Susan Wells, sales account manager for Pulsed Laser Diodes, Photodiodes, and IR Components at LASER COMPONENTS USA. "A strong sense of community resulted, forming many new connections. This proves that IR technology offers an array of future developments in many areas and continues to remain an exciting field".
Contact:

Contact Person:
Joe Kunsch
Company:
Laser Components GmbH
Address:
Werner-von-Siemens-Str. 15
ZIP / City:
82140 Olching
Phone:
+49 (0) 8142 2864-28
Fax:
+49 (0) 8142 2864-11
Email:
j.kunsch@lasercomponents.com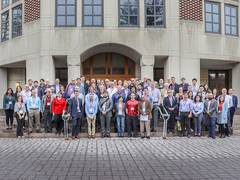 Downloads: