Custom High-Performance Diffractive Scattering Optics
11.12.2018
Broadband Diffuser
Thanks to an innovative production process, LASER COMPONENTS can now offer custom high-performance broadband diffusers manufactured by our supplier Holo/OR at a low price. These scatter filters cover a wavelength range from UV to NIR and are specifically designed for high-power laser applications that use multiple wavelengths in the same optical path. The light is uniformly distributed at an efficiency of over 90% and does not create a zero-diffraction order. The diffusers can be used like ordinary diffractive optical elements (DOEs) and are available in round, rectangular, and linear spot shapes.
Typical applications include aesthetic medicine, which requires just a few wavelengths for various procedures, microscopy with broadband sources, and scientific applications.
Further product information:
Diffractive Optical Elements for Beam Shaping

Manufacturer:
Holo-OR Ltd.
Contact:

Contact Person:
René Sattler
Company:
Laser Components GmbH
Address:
Werner-von-Siemens-Str. 15
ZIP / City:
82140 Olching
Phone:
+49 (0) 8142 2864-763
Fax:
+49 (0) 8142 2864-11
Email:
r.sattler@lasercomponents.com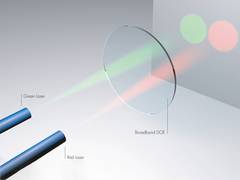 Broadband Diffuser

Downloads: