New Power Detectors for Lasers with Extreme Power and Energy Density
24.06.2019
UP-QED Series
LASER COMPONENTS launches a new series of laser power detectors by Gentec-EO. These devices were specifically designed for high energy, solid-state lasers. Thanks to a proprietary absorber that diffuses the measured beam and absorbs it in a larger volume, the new UP-QED series features the highest damage thresholds on the market: ­100 ­kW/­cm2 in power density and up to 300 J/cm2 in energy density. All devices are available in two sizes: UP16-QED with a 16 mm Ø aperture for small beams, and UP52-QED with a 52 mm Ø aperture for large beams.
The modular design allows customers to choose the cooling unit (simple convection, heatsink, forced air or water-cooled) to reach up to 300 W average power. There also are various output options: Users may connect the detector to one of Gentec-EO's displays and PC interfaces with the standard DB15 output, or choose an all-in-one detector with integrated meter for other output choices such as USB, RS-232 or wireless (Bluetooth).
Further product information:
Systems Used to Analyze Laser Beams

Manufacturer:
Gentec-EO, Inc.
Contact:

Contact Person:
René Bartipan
Company:
Laser Components GmbH
Address:
Werner-von-Siemens-Str. 15
ZIP / City:
82140 Olching
Phone:
+49 (0) 8142 2864-103
Fax:
+49 (0) 8142 2864-11
Email:
r.bartipan@lasercomponents.com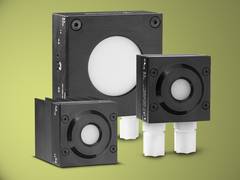 Downloads: