Optical Fibers for 3D Shape Sensing
14.11.2017
Multicore Fibers
Partnering with Fibercore, the fiber optics department at LASER COMPONENTS is able to extend its portfolio with specialty products such as multicore fibers that allow simultaneous transmission of multiple signals with different cores. The standard configuration comprises seven cores in a 125 μm cladding.

High-speed data transmission is one advantage of multicore fibers. They can also be used as fiber optic sensors, if their cores are equipped with so-called fiber Bragg gratings (FBGs) – reflective gratings that filter specific wavelengths. Changes in the fiber's form or position result in changes of the filtered wavelength. For 3D shape sensing, the multicore fiber is spun during the draw process and, subsequently, FBG's are written along the length of each of the cores. The spinning of the multicore fiber, along with the FBG's, provides the ability to detect rotation in the fiber either left or right in additional to detecting three dimensional changes.

In the biomedical sector, vascular and interventional radiology(VIR) requires imaging systems, such as X-rays or CT scanners, to assist with the guidance of angioplasty and catheter delivered stents. However through the use of Fibercore's multicore fiber with FBG's inscribed along the length, the need for constant imaqing using these techniques can be removed. The fiber is able to sense its own shape, enabling a 3D reconstruction of the path it is taking within the body in real time.
Further product information:
Speciality Fibers

Manufacturer:
Fibercore
Contact:

Contact Person:
Florian Tächl
Company:
Laser Components GmbH
Address:
Werner-von-Siemens-Str. 15
ZIP / City:
82140 Olching
Phone:
+49 (0) 8142 2864-38
Fax:
+49 (0) 8142 2864-11
Email:
f.taechl@lasercomponents.com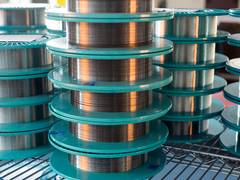 Downloads: