ProCoater – Small Recoater by Northlab Photonics
24.10.2017
Inexpensive Molds for Several Diameters
Flexibility and user-friendliness are the most striking features of Northlab's ProCoater. This compact fiber coating device is designed to allow flexible adaptation to a multitude of fiber diameters and recoating materials. It is now available at LASER COMPONENTS.
Weighing a mere 800 g, this handy, battery-powered device is easy to move and can be used for processing very short fiber pieces.
Its unique, square-shaped hard molds can easily be changed in a few minutes. They come in three standard sizes at 250 µm, 400 µm, and 600 μm; however, due to their design, customized sizes can be made and delivered upon request.
A high-power UV LED array allows for fast curing of low and high-index coating compounds. In most instances, this process is finished in less than three seconds.
The ProCoater's USB interface allows operators to upload up to four recoating routines and provides access to all general settings.
Further product information:
Recoater

Manufacturer:
NorthLab Photonics AB
Contact:

Contact Person:
Dr. Christina Manzke
Company:
LASER COMPONENTS GmbH
Address:
Erfurter Str. 1
ZIP / City:
16515 Oranienburg
Phone:
+49 (0) 3301 522 99 98
Fax:
+49 (0) 8142 2864-11
Email:
c.manzke@lasercomponents.com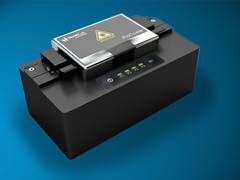 Downloads: