Successful Sales Training
21.11.2017
Worldwide Expertise
LASER COMPONENTS puts the same emphasis on the professional expertise of distributors as on product quality. As a worldwide supplier of tailor-made optical and optoelectronic components, the company guarantees the same competent customer service in all markets. Therefore, all distributors are regularly updated on technical innovations and new production capabilities. This year's distributor meeting at the company headquarters in Olching was attended by partners from Japan, China, Korea, Italy, Israel, Russia, and the Czech Republic. During three intense days of training, the experts at LASER COMPONENTS introduced them to the latest developments in all product areas.
"The training event has become an important tool to support our international sales activities", says Sven Schreiber, head of sales at LASER COMPONENTS. "We can be sure that this year's experience will be as positive as always and our distributors received all the expertise they need to offer individual customer solutions all around the world."
At four facilities in Germany, Canada and the US, LASER COMPONENTS produces laser optics, pulsed laser diodes, avalanche photodiodes, IR detectors, laser modules, assembled fibers, and photon counters. Most of the products are developed in close cooperation with customers and tailor-made to their respective requirements. This customer oriented approach is a major factor for the continuing success of the company.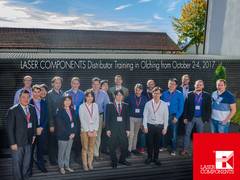 Distributor Meeting

Downloads: