UVC LED Solutions according to Customer Requirements
12.03.2019
Close Collaboration with LG Innotek
UVC LEDs are beginning to become more and more accepted in the large-scale disinfection of water, air, and surfaces. Representatives at LG Innotek and LASER COMPONENTS were able to prove this to numerous customers during a trip through Germany, Austria, and Switzerland that lasted several days.
"In the last two years a lot has happened in the UVC spectrum," explains Dr. Olga Stroh-Vasenev, product engineer for UV LEDs, laser diodes, and photodiodes at LASER ­COMPONENTS. "Single-chip power has more than tripled in this period from 30 mW to 100 mW. Accordingly, the number of possible applications has also increased." Many companies are now approaching the manufacturer and its sales partner with concrete ideas. Together with customers, Dr. Stroh-Vasenev and her colleagues from Korea developed ideas and solutions for the practical implementation of these wishes.
"Interest in UV LEDs continues uninterrupted and is growing all the time," says Luis Sim from business development at LG Innotek. "For us, Europe is a particularly attractive market with many innovative but also very demanding companies. Therefore, we are glad to have LASER COMPONENTS as a sales partner because they are used to handling specialized customer requests. It is important to us for our customers to have a local contact with whom they can plan and negotiate in their native language at any time without a time difference."
LASER COMPONENTS has been LG Innotek's European sales partner for UV LEDs since 2014.
Further product information:
UV LEDs

Manufacturer:
LG Innotek
Contact:

Contact Person:
Dr. Olga Stroh-Vasenev
Company:
Laser Components GmbH
Address:
Werner-von-Siemens-Str. 15
ZIP / City:
82140 Olching
Phone:
+49 (0) 8142 2864-48
Fax:
+49 (0) 8142 2864-11
Email:
o.stroh-vasenev@lasercomponents.com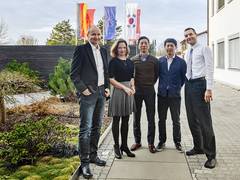 LASER COMPONENTS welcomed visitors from the Far East at the headquarters in Olching (from left to right): Winfried Reeb

Downloads: