Seminars on Fiber Optics
Welcome to the LC campus. We provide further training to keep you up to date. In our training center in Mönchengladbach, we offer seminars in fiber optic network technology several times a year. We also provide training workshops at our other locations, as well as in-house workshops. Our in-house seminars are tailored to the needs of your company.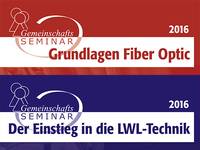 We rely on strong partners.
In addition to its own events, Laser Components offers fiber optic seminars together with its partner opconnect (formerly Paetec). These successful training courses, which are offered throughout Germany, complete the program opportunities available for professional development with a local partner seminar program. Many participants have already successfully completed this seminar series.
Speakers and Topics of Joint Seminars
LASER COMPONENTS' Topics in Fiber-optic Measurement Technology, Splicing Technology, and Connector Qualification
Dr. Eberlein – the most renowned and leading speaker in Germany – will lecture in his usual manner on the technical background.
Laser Components offers the most comprehensive training program currently available in the field of fiber optic technology: at its branch offices in Berlin, Munich, and Monchengladbach; on site at the customers' and installation companies; and together with the joint seminar at several other locations in Germany.
We look forward to welcoming you at our seminars!
Seminars Fiber Optic Basics
The seminar on fiber optic basics is directed at installation technicians, planners, and network maintenance personnel. It is also directed at both beginners and lateral entrants who are interested in becoming familiar with fundamental optical fiber technology. This two-day seminar covers both the basic physics of optical fiber transmission and practical installation skills. Each day can also be booked individually.
On the first day of the seminar, you will gain a better understanding of optical fibers and receive an introduction into the theory and practical application of detachable connections (connectors) and intractable connections (splicing). The workshop component offered in the afternoon covers the application of your new knowledge in practical exercises.
The second day of the seminar deals with optical measurement technology in the installation world. You will learn the different measurement methods for the qualification of an optical fiber connection: attenuation measurement and OTDR measurement. Finally, you will receive practical tips for handling optical fiber connectors. Here you will also have the opportunity to carry out a measurement in the workshop.
Our speakers and partners all have vast technical knowledge in the area of optical fiber and installation technology. We are available to field any questions in this area!
Registration (German)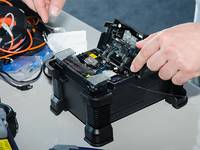 Introduction into Optical Fiber Technology
The joint seminar on the introduction into optical fiber technology is a one-day workshop. You will practice splicing or carrying out measurements (attenuation measurements and OTDR measurements) under laboratory conditions in our workshops and under the guidance of an experienced trainer.
This seminar focuses on imparting initial skills and becoming more proficient in the handling of measurement equipment. Speed is not as important as the correct order in the sequence of operating steps.
This workshop is directed at planners, beginners, lateral entrants, and technical and business managers who are interested in gaining experience in the handling of optical fiber technology.
Practical Seminar on Splicing
You will learn the basics to gain a better understanding of the processes involved in connecting two optical fibers. The main focus of attention is on the practical application of tools and the handling of optical fibers.
Practical Measurement Seminar
We will begin by reviewing the most important basics in performing a measurement of a fiber optic cable. The main part deals with the attenuation measurement of multi-mode and single-mode fibers, as well as OTDR measurement for troubleshooting and certification tests.
Registration (German)