Workshops
Several times a year LASER COMPONENTS offers workshops on different topics. These events are either held at our headquarters in Olching or - during trade shows - on-site at the venue.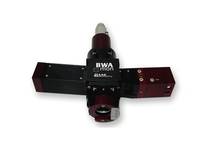 Workshop on Real-time Laser Beam Analysis for High Power Lasers
June 26, 2017 - LASER World of PHOTONICS 2017

Are you interested in measuring the properties of your laser beam during the production process? And fast? Then register now and secure a spot at our free workshop on real-time beam analysis.
The speaker, Michael Scaggs, will introduce the BWA-MON system offered by our partner Haas Technologies, Inc. This 50 Hz measuring system is not only superfast but also analyzes the different parameters of your laser simultaneously: This includes, for example, the beam waist, M2 value, and thermal lens.
Learn more on site. You may look forward to an interesting afternoon on the first day of the LASER World of PHOTONICS 2017 trade show.
Please note: The number of participants for the workshop is limited.
Most important information:
Date: June 26, 2017
Time: 3:30 p.m. to 4:30 p.m.
Target group: Manufacturers and users of high-power lasers
Language of presentation: English

If you require any information, please do not hesitate to contact us.