Fiber Optics
Many different optical fibers are assembled in our fiber optics production facility for use in laser technology as well as medical, illumination, and communication applications.
Fiber Optics

Laser Components GmbH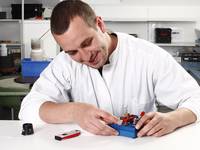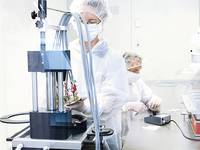 Assembled Fiber Optics
Based on the needs of our customers for more flexibility and faster availability we began developing and manufacturing assembled fiber optics in 1995. Since that time, the range of available fiber / connector combinations has grown steadily and a large volume production has ensued.
Our specialty is the assembly and processing of large-core fibers, such as those used in, for example, sensor technology, spectroscopy, and medical technology. Customizations are our standard. Our development engineers work hand in hand with the production team in order to accomplish complex tasks.
Polishing methods from optical precision technology ensure the highest quality; this has been confirmed by reputable customers worldwide. In addition to various measurement and testing equipment for the assessment of output power, optical parameters, end faces, and stability, an in-house laser laboratory is also available.
Take the opportunity to talk directly to the manufacturer about your application.
Our Fields of Work
Coated Fibers
Fiber tips with AR coatings reduce coupling losses. At LASER COMPONENTS GmbH different coatings can be applied, such as, for example:
Single AR coatings for a single wavelength (e.g. 808 nm)
Dual AR coatings for two wavelengths (e.g. 808 nm and 980 nm)
Broadband AR coatings for a wavelength range (e.g. 460-700 nm)
Laser Power Transmission
One of our core competencies is the manufacturing of fiber-optic assemblies for laser power transmission. This field is dominated by SMA and D80 connectors, as well as custom coupler designs with large-core fibers (Øcore: 100-1000 µm). We manufacture free-standing SMA connectors with centricities of the free-standing fiber of <5 µm.
There are many different combinations of connectors, cables, and cladding/jacket options available; for example, if you require high heat conductivity, we select copper ferrules. To achieve maximum transmission capacity, we equip patch cords with an AR coating in house. To remove unwanted cladding modes, we offer our mode-strip technology, which was developed by us in house for new applications in high-power transmission with single fibers.
Sensor Technology
The triumph of miniaturization and flexibility in sensor technology requires new solutions in light transmission via optical fibers. In collaboration with our customers, we are able to expand the limits of possibility.
Medical Technology
We also manufacture assemblies for medical applications and are certified via our management system according to ISO 13485. In a state-of-the-art cleanroom environment, we develop and manufacture medical fiber assemblies for applications in surgery, dentistry, dermatology, lithotripsy, tattoo removal, and magnetic resonance imaging. In addition to traditional large-core fibers, polarization-maintaining (PM), single-mode, and multi-core fibers are also manufactured, which can be processed and assembled with all connector types.
Spectroscopy
Flexible fiber technology is also required in spectroscopy – either as single-fiber transmission or as a fiber bundle. The wavelength spectrum varies widely and extends from the infrared range to the deep UV range. Hollow-core fibers are also available for CO2 and Er-YAG (10.6 µm and 2.95 µm) applications.
Industrial Applications
Fibers are increasingly being used in industry for data transmission, control, and light transmission. In addition to glass fibers, plastic optical fibers (POFs) are also in demand.
Fiber-Optic Developments
Our development and production teams at LASER COMPONENTS work hand in hand. We combine knowledge gained in the areas of electronics and laser technology with technical know-how in mechanics, housing technology, and fiber-optic connection and component technology. This allows us to respond quickly to customer needs regarding the design, development, and production of submodules and modules and to also find solutions for complex requests and projects.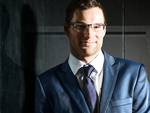 Director of Production
Dr. Stefan Hanf

Since completing his physics degree in Jena, Dr. Stefan Hanf has been working intensively with optical fibers and their various applications. For four years, he has worked on the development of customized fiber optic projects at LASER COMPONENTS. Since 2019 he has been responsible for the production of fiber assemblies.