Expert Forum with Clear Market Relevance
15.11.2018
5th International IR WORKshop
In its fifth edition, LASER COMPONENTS' IR WORKshop once again offered a forum for the intensive exchange of knowledge and experience. More than eighty experts from companies and research institutes in twelve countries met in Olching near Munich on November 12 and 13, 2018. This time around the more than forty short presentations focused on microelectronic components for IR spectroscopy, as well as the associated peripheries and applications.
"This topic is very current, and many companies are feverishly looking for a commercial breakthrough," explains our host Joe Kunsch, head of the IR components division at LASER COMPONENTS. "This reference to current market developments is particularly important to us because it guarantees the active participation of all attendees. After all, intensive, and sometimes even controversial, discussions are part of the recipe for success of this event series."
One new element included a retrospective look at the forecasts made by participants at past events when they reported on the current status of their projects at those past events. "Six years have passed since our first WORKshop," says Kunsch. "This is a good timespan for such a review. Many research projects from back then are now a technical reality. And yet, many participants still remember them."
The success of the past few years had prompted LASER COMPONENTS in 2017 to convert the WORKshop, which had previously taken place every two years, into an annual event. Since then it has been held alternately in Germany and the United States. The date for the 6th International IR WORKshop has already been set: It will take place from October 28 to 30, 2019, at the renowned Princeton University.
Links: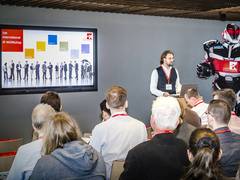 Downloads: