Production Facilities
"Made by LC." The LASER COMPONENTS Group continues to expand its network of production facilities. This allows LASER COMPONENTS the unique ability to respond to customer-specific requests quickly and in an uncomplicated manner. Our customers profit from long-term solutions implemented in the short term.
We can rely on our production facilities in Germany, Canada, and the U.S.A. and value the highly-qualified personnel in both research & development and production. It is only with superiorly trained employees that we are able to develop such extremely high-quality products. See for yourself!
InGaAs PIN, PbS and PbSe Photodiodes and IR Emitters

Laser Components Detector Group, USA
The LASER COMPONENTS Detector Group in Tempe, Arizona, has been manufacturing (extended) InGaAs PIN photodiodes and IR emitters since 2013, PbS and PbSe detectors were released onto the market in 2015.


IR Detectors - InGaAs PIN, PbS, PbSe

The Detector Group has an experienced R&D team working on its product developments, both improving the IR material and introducing novel IR detectors to the market. The quantum efficiency, for example, is constantly being pushed to its technical limits.
InGaAs PIN Detectors
InGaAs PIN diodes not only cover the SWIR spectral range but the visible range as well: We refer to this characteristic as panchromatic. InGaAs detectors have a smaller temperature coefficient than the less-expensive PbS/PbSe detectors and are thus preferred in critical applications.
PbS and PbSe Detectors
The Detector Group took advantage of the opportunity to develop PbS and PbSe detectors at Arizona State University (ASU) and subsequently transfer the process to manufacturing. The ambitious goal during R&D and production was to take over the technological leadership. PbS and PbSe detectors are tested and proven detectors that can also be used at room temperature. These detectors offer a significant cost benefit over InGaAs PIN photodiodes, especially the large-area designs.


IR Emitters
MEMS chips are processed in Tempe, assembled to pulsable thermal emitters, and subsequently tested. The heart of these infrared sources is thin membranes based on nanoamorphous carbon layers.


Product Developments
IR components are often developed and manufactured according to customer specifications. We are especially proud of the successful development of complex customer-specific projects: High customer demands are able to be met thanks to the successful collaboration between our various internal production facilities; an example of this collaboration is the soldered housing windows coated using LASER COMPONENTS' state-of-the-art IBS technology.
The MAJOR detector modules are another example of the collaboration between the electronics department in Germany and detector production in Arizona.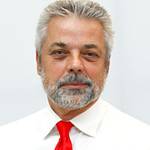 General Manager
Dragan Grubisic
Dragan Grubisic's extensive experience with semiconductor sensors has been facilitating Laser Components DG, Inc. proliferation of high performance and unique detectors covering wide range of applications.