Substrate Manufacturing
In substrate production, spherical lenses with diameters of typ. 12.7 mm - 60 mm are ground and polished. Our high quality metrology equipment can also be used for customer-specific measurements, which we offer as a service.
Substrate Manufacturing

Laser Components GmbH
Custom-Made Substrates
2008, LASER COMPONENTS celebrated the opening of its state-of-the-art production facility for the manufacture of lenses in Olching. Substrates with a diameter of 12,7 mm to 55 mm can be ground and polished according to customer specifications. All types of lenses (plano-concave, plano-convex, biconcave, and biconvex) can be manufactured with a radius that ranges between 12 mm and 12,000 mm.

The high quality of the lenses manufactured in Olching (Germany) is particularly worth mentioning. Also, the extremely short delivery time of up to 10 business days - coating included - will excite our customers.

Quality and flexibility can be achieved using machinery such as, for example, precision grinding and polishing machines from Schneider, which are available for processing. The interferometric measurement and subsequent inspection of your lens is then carried out using special software. Last but not least, the lens is finely polished using a polishing machine from QED in order to obtain perfect surfaces.

Before the substrates leave the production facility, they pass through an ultrasonic cleaning unit (which was also put into operation in 2008). With this multifrequency unit, which operates in the range from 40 kHz to 120 kHz, even sensitive optical glasses can be cleaned. In nine immersion baths, which are filled with both diluted and 100% chemical solutions, substrates from 10 mm to 8" can be processed. For the most precise regulation possible, the cleaning and subsequent infrared drying processes are controlled and monitored using an SPS. Loading, unloading, and handling inside the machine are all fully automatic.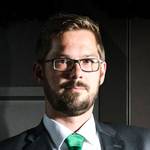 Director of Production
Christian Grunert

Christian Grunert has been working at Laser Components as a development engineer since 2014 and as head of production since 2018. He completed his degree in the area of laser and optical technologies and has many years of experience in the field of optical thin film technology. He is responsible for the introduction of new products and technologies.
Products
Find out more about the substrates made by LASER COMPONENTS
Lens Substrates for Laser Applications
Lenses of Normal Quality