A Special Design of Plastic Optical Fibre for Illumination
09.03.2017
Side-Light POF
LASER COMPONENTS offers polymer optical fibres that emit coupled light sideways across the entire length of the fibre.
This property is extraordinary because normally the coupled light is actually transmitted within the optical fibres and only decoupled at the fibre end face. Conventional fibres are designed to keep the decoupled side light (leakage) to a minimum.
The side-light plastic optical fibre was created for design illumination tasks in which light must leak out equally across a certain length. For example, in the automobile industry, these fibres are suited for interior lighting in the middle console or the door frames. They can also open up new possibilities in the textile industry or lamp designs.
The side-light POF is available with diameters of 250 µm, 500 µm, 750 µm, and 1000 µm. They are available both as single fibres and fibre bundles with up to sixteen fibres.
Further product information:
POF Fibres and Cables

Contact:

Contact Person:
Dr. Peter Bennett
Company:
LASER COMPONENTS (UK) Ltd.
Address:
Goldlay House 114 Parkway
Postcode / City:
CM2 7PR Chelmsford Essex
Phone:
+44 1245 491499
Fax:
+44 1245 491801
Email:
pbennett@lasercomponents.co.uk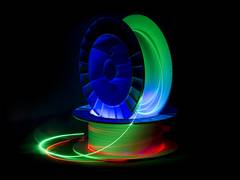 Side-Light POF

Downloads: