The Most Powerful UV-C LED in the WORLD
05.09.2017
High-Power Single-Chip UV-C Source for Water and Air Disinfection
LG Innotek, UV LED partner of LASER COMPONENTS, announces the first 70mW UV-C LED in the world. At 278 nm, it features the highest power ever achieved from a single chip.
Its improved light emission capabilities derive from a newly developed semi-conductor technology. Thanks to its robust 6x6 mm SMD casing, it can be used in almost any environment. Other parameters such as wavelength (278 nm), If, and Vf remain unchanged from earlier versions. The same accounts for life cycle, stability, and reliability.
UV-C light is popular for disinfecting air, water, and surfaces. This wavelength can also be used for curing. Thanks to its high power, the 70mW UV-C diode offers significant improvements of curing rate and time.
Further product information:
UVB / UVC LEDs (200 - 315 nm)

Manufacturer:
LG Innotek
Contact:

Contact Person:
Chris Varney
Company:
LASER COMPONENTS (UK) Ltd.
Address:
Goldlay House 114 Parkway
Postcode / City:
CM2 7PR Chelmsford Essex
Phone:
+44 1245 491499
Fax:
+44 1245 491801
Email:
cvarney@lasercomponents.co.uk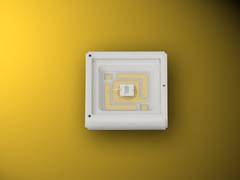 Downloads: