LASER COMPONENTS Campus
LASER COMPONENTS Campus: Several times a year LASER COMPONENTS offers workshops, technical trainings, or symposiums on different topics. These events are either held at our offices or - during trade shows - on-site at the venue.
IR WORKshop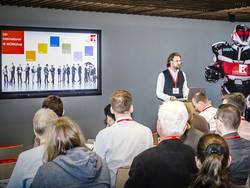 Next IR WORKshop 2020:
November 9-10, 2020, in Olching near Munich


Every other year, our IR WORKshop returns to its place or origin in Olching near Munich – and so it will in 2020 on November 9th and 10th. Once again, we will host up to 80 established research and business experts. With a tight succession of lectures and lively discussions, the WORKshop has become a standard date in the calendars of the IR industry.
Please find closer information about the 2020 IR WORKshop at www.ir-workshop.info.
A review of the 2018 workshop in Olching can be found here.