Service and Repair of Fiber Optic Splicers
26.06.2018
Up to 15% Discount on Regular Checkups
In the long run, even FITEL Furukawa's modern, low-maintenance splicing and fiber cleaving tools will only work flawlessly if they are cleaned and checked regularly. As an authorized service partner of the manufacturer, LASER COMPONENTS recommends an annual check. Each inspection is documented in a service booklet, so that customers can always keep track of their appointments. If the tools are turned in in time for the next checkup, the customer will receive a 10% discount on the service costs. Those who deliver a cleaver and a splicer at the same time even save 15%*.
LASER COMPONENTS is a qualified maintenance and repair workshop for all FITEL Furukawa splicing and cleaving tools. In addition to annual inspection and cleaning, the company also offers a comprehensive repair service. Defective elements, such as the mainbase, lenses, or the support battery, are always replaced by original parts. More complex repairs are also carried out competently.

*The loyalty discount is granted if the device is received by LASER COMPONENTS GmbH in time for the next registered service date. The discount is granted on the current price of the service and does not apply to replacement wear parts, spare parts, or necessary repairs.
Further product information:
Service Center FITEL Furukawa

Manufacturer:
Fitel - a Furukawa Electric Co., Ltd. Company
Contact:

Contact Person:
Philipp Thalmeier
Company:
LASER COMPONENTS GmbH
Address:
Werner-von-Siemens-Str. 15
ZIP / City:
82140 Olching
Phone:
+49 (0) 8142 2864-67
Fax:
+49 (0) 8142 2864-11
Email:
p.thalmeier@lasercomponents.com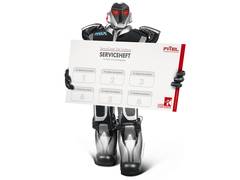 Downloads: