Product Services
LASER COMPONENTS values its above-average customer service. Our sales representatives are in direct contact with our production facilities and premium suppliers.
We have even set up our own service centers to guarantee customers fast repairs and calibrations. Use our crimp & cleave service center, our calibration service for laser power meters, and our many other services.
Complete Service for Your Fiber Tools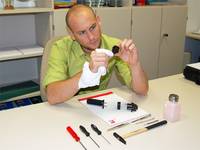 To assemble optical fibers and cables many different tools are required. We are able to offer the right tools for almost all requirements.
In addition to fiber strippers and crimp pliers, we offer polishing holders for all common connector systems. Most of the Cleave tools were developed for SMA, ST and V-PIN connectors. To guarantee that the tools are working within acceptable tolerance limits - especially when in permanent use - they have to be checked periodically and expendable parts replaced. To combine your repair and maintenance work with the least amount of effort on your part LASER COMPONENTS has opened a service center for these tools.
Please contact us!
To send in your products for Cleave Tool Service, you must have a return material authorization (RMA) number issued by Laser Components.

We regret that we are unable to process products sent to us without a corresponding RMA number. We will, therefore, return them at your cost.
Please note that our general terms and conditions apply, in particular the stipulations regarding RMA and the service fee we charge.
To request an RMA number, please complete the RMA request form.
If you have filled out your RMA request form completely and correctly, we will provide you with an RMA number. This RMA number is valid for 30 days. Afterwards, the number will be closed and returns no longer accepted.
Along with the return shipment, please enclose the RMA return confirmation received from us. Please note the RMA number clearly legibly on the outside of the return shipment address label.

(To avoid problems when filling out the PDF form, please use Acrobat Reader.)
Simply call us or send us the completed RMA request form an we will be in touch with you shortly.