Product Services
LASER COMPONENTS values its above-average customer service. Our sales representatives are in direct contact with our production facilities and premium suppliers.
We have even set up our own service centers to guarantee customers fast repairs and calibrations. Use our crimp & cleave service center, our calibration service for laser power meters, and our many other services.
Authorized FITEL Furukawa Service Center
Splicer Service: Annual Check-up, Maintenance, and Repair
Annual Check-Up: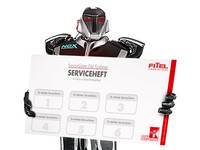 Even state-of-the-art low-maintenance splicers like the one developed by FITEL should be tested and cleaned regularly. We recommend having your splicer checked, tested, and cleaned once a year.
The official Laser Components service seal and testing protocols meet the standards set by the majority of companies for measuring and work equipment. This seal serves as an automatic reminder of when the next maintenance review should be scheduled. Fast processing, high quality according to ISO 9001 standards, and original replacement parts are just some of the features of the authorized service provided.
A specialized service team trained by FITEL's experts is available to field questions.
If you require quick service, simply contact us as early as possible. If you have a minimum of five units, we will gladly come to you.
Do not forget to have your cleavers checked regularly! These units can also become damaged, be dropped, or simply be subjected to normal wear and tear. Remember that a splicer is able to detect a bad fiber cleave (and perhaps even reject the splice), but it cannot correct a bad break. Take care of your cleaver, store it properly, and have it maintained on a regular basis!
Maintenance & Repair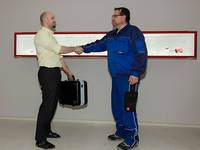 If you have a problem with one of the quality units from FITEL, take advantage of Laser Components' repair service! Even objects subject to normal wear and tear, such as electrodes or back-up batteries, should be replaced quickly. The authorized service offered in house by Laser Components is fast, reliable, and readily available.
You are also welcome to come by our office in Olching (near Munich) directly. It is important to use original replacement parts when having your unit serviced. The use of inexpensively reproduced replacement parts results in the lapse of the guarantee and often leads to malfunctions in the system and expensive repairs. Rely on original factory service!
Do you need a temporary replacement until your splicer is repaired? Simply let us know in advance. We have a pool of FITEL units available for temporary use. You can avoid downtimes due to repairs on your unit.
Do you have a splicer from a different manufacturer? No problem: we can help. (We can also perform maintenance checks on RXS units.)
Simply give us a call or fill out our RMA inquiry form and we will be in touch.


To send in your products for Service Center FITEL Furukawa, you must have a return material authorization (RMA) number issued by Laser Components.

We regret that we are unable to process products sent to us without a corresponding RMA number. We will, therefore, return them at your cost.
Please note that our general terms and conditions apply, in particular the stipulations regarding RMA and the service fee we charge.
To request an RMA number, please complete the RMA request form.
If you have filled out your RMA request form completely and correctly, we will provide you with an RMA number. This RMA number is valid for 30 days. Afterwards, the number will be closed and returns no longer accepted.
Along with the return shipment, please enclose the RMA return confirmation received from us. Please note the RMA number clearly legibly on the outside of the return shipment address label.

(To avoid problems when filling out the PDF form, please use Acrobat Reader.)
Simply call us or send us the completed RMA request form an we will be in touch with you shortly.