EVER-GUARD® Laser Protective Curtains Made of Metal
20.10.2015
So You Think This Is a Contradiction of Terms...?
They really exist: curtains made of metal panels that are mounted to the ceiling, can be moved freely, and offer the extraordinary protection of metal screens. They are available at LASER COMPONENTS.
The individual panels are approximately 25 cm wide, are movable due to the hinges they are equipped with on both sides, and are available for delivery at any height requested.
The honeycomb-like surface structure absorbs and disperses laser radiation. This material is suited for all standard wavelengths and certified according to DIN EN 12254.
By applying the same assembly material used in the SLC-250WB textile curtains, different configurations (L forms and U forms) can be implemented. Laser protective windows can also be integrated into the panels on an optional basis.
The protection levels of the EVER-GUARD® curtains correspond to those of the PT-EVG material used in metal screens, the power density is 12 MW/m².
Further product information:

Manufacturer:
Kentek
Contact:

Contact Person:
Mikael Winters
Company:
Laser Components Nordic AB
Address:
Skars led 3
ZIP / City:
41263 Göteborg - Sweden
Phone:
+46 (0) 31 703 71 73
Fax:
+46 (0) 31 703 71 01
Email:
m.winters@lasercomponents.se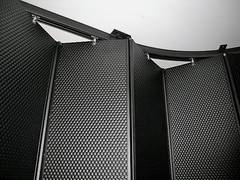 EVER-GUARD® Laser Protective Curtains Made of Metal

Downloads: