About us
The cultural model of a company is the basis for its innovative ability. Our work atmosphere is one that encourages creativity but also demands high quality products and service. All employees play an active role in the continuous optimization of products and processes. We have made it our business to constantly research and develop new and innovative components produced not only in-house, but also as a distributor of products offered by well-known international manufacturers.
General Management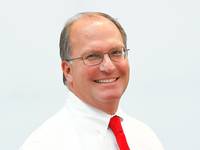 Gary Hayes
Gary Hayes has been involved in the field of lasers his entire working career since 1980. His career path includes 11 years as Research Engineer at the MIT Laser Research Center, 5 years as Manager of the Davison Medical Laser Center and now since 2002, running Laser Components in the USA.
His journey has produced approximately 45 publications/presentations and 14 patents in areas of lasers, fiber optics, medical laser applications and spectroscopy. Gary's diverse photonics and business experience has contributed significantly to the success of Laser Components USA, Inc.