Production Facilities
"Made by LC." The LASER COMPONENTS Group continues to expand its network of production facilities. This allows LASER COMPONENTS the unique ability to respond to customer-specific requests quickly and in an uncomplicated manner. Our customers profit from long-term solutions implemented in the short term.
We can rely on our production facilities in Germany, Canada, and the U.S.A. and value the highly-qualified personnel in both research & development and production. It is only with superiorly trained employees that we are able to develop such extremely high-quality products. See for yourself!
In-house Production at LASER COMPONENTS
We stopped being a sole distributor in 1986 when we started the in-house production of laser optics. In the years that followed we expanded the development and production of our own components step by step.
Today, more than half of our turnover is generated by products "made by LASER COMPONENTS." More than 50 employees worldwide at six locations manufacture components for the optoelectronic and laser industry.
ITAR Compliant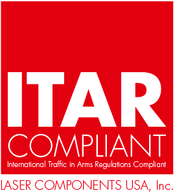 Contact us!
Just give us a call:
+1 603 821 7040

You are also invited to send us an email:
info@laser-components.com

Laser Components USA, Inc.
116 South River Street
Bedford, NH 03110