Fibre Optics
Many different optical fibres are assembled in our fibre optics production facility for use in laser technology as well as medical, illumination, and communication applications.
Fibre Optics
LASER COMPONENTS GmbH, Olching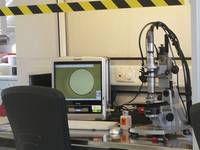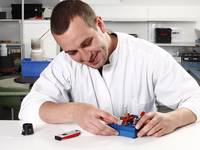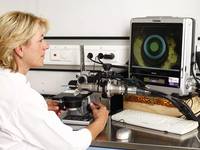 Assembled Fibre Optics
Based on the needs of our customers for more flexibility and faster availability we began developing and manufacturing assembled fibre optics in 1995.
Since that time, the range of available fibre / connector combinations has grown steadily and a large volume production has ensued. The range of assembled fibres stretches from large core fibres starting at 100 µm to >1500 µm. Graded index fibres that have a core diameter of 50 µm, 62.5 µm, and 100 µm can also be assembled according to customer specifications.
Special products such as sterile patch cords, high power SMA connectors with free-standing fibres, and light bundles made from POFs have stemmed from the developments made in recent years. Specialty customer-specific solutions for use in medicine, laser systems, sensor technology, the automotive industry, and industrial applications are the main focus here. Take the opportunity to talk directly to the manufacturer about your application.


Coated Fibres
Fibre tips with AR coatings reduce coupling losses. At LASER COMPONENTS GmbH different coatings can be applied, such as, for example:
Single AR coatings for a single wavelength (e.g. 808 nm)
Dual AR coatings for two wavelengths (e.g. 808 nm and 980 nm)
Broadband AR coatings for a wavelength range (e.g. 460-700 nm)
Fibre Coupler
LASER COMPONENTS' development team designed a fibre coupler for free-beam lasers from 400 nm to 1300 nm; this coupler is mounted directly to the laser using a mounting flange. The optics inside the coupler are used to focus the beam. A fine adjustment is necessary to guide the laser beam optimally into the fibre. Laser beams at a diameter of up to 10 mm can be coupled into fibres that have a diameter of 100 µm to 2000 µm.
To optimize coupling efficiency, the optics inside the coupler are equipped with an AR coating in house at LASER COMPONENTS.


MediStrip – Sterilizable Fibre Stripper
In medical applications that require optical fibres it is becoming more and more common to have to prepare the fibre again during an operation. For this purpose, the MediStrip, a sterilizable fibre stripper, was developed. Methods of cleaning and sterilizing were validated by an independent test laboratory.


Crimp & Cleave Center
Our fibre group perform all repair and calibration tasks related to the tools used in crimp & cleave technology.
Director of Production
Felix Paul
As a skilled precision optics engineer, Felix Paul is responsible for both fibre assemblies and the production of fibre strippers. Always looking to the future, equipment and production continue to increase. State-of-the-art measurement and production technologies guarantee innovative products.