New General Manager at Laser Components Pyro Group
08.05.2018
Generational Change in Florida
Lance Feldman has been the new general manager at LASER COMPONENTS Pyro Group in Stuart, Florida, since the beginning of the year. Since the start of the Pyro Group in July of 2014, he has been responsible for the production of pyroelectric detectors. He was also primarily responsible for the development of the new production facility and developed all its organizational and operational procedures. Thus, Feldman contributed significantly to making his company a successful member of the exclusive circle of manufacturers for DLaTGS-based pyroelectric detectors.
In addition to the production facility, the LASER COMPONENTS Pyro Group also employs an inventive R&D team. Their innovative spirit has led to the development of the LD2100 series pyroelectric detectors, in which an integrated differential amplifier provides for an unprecedented signal-to-noise ratio.
Further product information:
Pyroelectric Detectors

Manufacturer:
Laser Components Pyro Group, Inc.
Contact:

Contact Person:
Dr. Tony Hornby
Company:
LASER COMPONENTS (UK) Ltd.
Address:
Goldlay House 114 Parkway
Postcode / City:
CM2 7PR Chelmsford Essex
Phone:
+44 1245 491499
Fax:
+44 1245 491801
Email:
thornby@lasercomponents.co.uk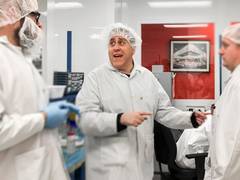 New Managing Director at Laser Components Pyro Group

Downloads: