Laser Components - Competence in Components
Development, production and distribution of custom laser-based and optoelectronic components
More than 35 years of experience as manufacturer and distributor
More than 35,000 individual components, mostly custom developments
International focus
More than 40 leading suppliers under contract
Revenue greater than 70 Million EURO
220 employees world-wide
ITAR compliant
A worldwide network!
At LASER COMPONENTS stability, continuity, and decisions aimed at long-term success meet with dynamics, flexibility, shallow hierarchies, and a short decision making process.
At a family-run business this is not a contradiction but the rather the result of two generations working together in harmony to lead the company into the future.
We'd Like To Hear from You!
Phone: +1 603 821 7040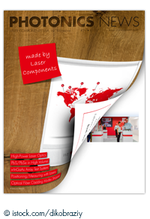 Electronics for x-InGaAs Line Arrays
Electronics and software support

APC Laser Diodes for More Safety
The new A4 series from Arima lasers



New IR Polarizers
colorPol® N-series
Webcode Search
Are you looking for a particular article?