PolaMagic: New Optical Frequency Domain Range Reflectometer
22.02.2017
OFDR-1000A – Optical Frequency Domain Reflectometer
LASER COMPONENTS introduces General Photonics' new optical frequency domain range reflectometer (OFDR). It not only measures reflections along a fiber but also analyzes the polarization of light.
Very tight bending radii and mechanical stress affect the lifetime of optical fibers. Finding such disturbances is difficult with fibers that are insensitive to bending because they do not necessarily lead to additional reflections or an increase in attenuation. Conventional OTDR measurement fails in this respect.
However, both disturbance factors affect the birefringence of the optical fiber. The PolaMagic OFDR-1000A measures this change in birefringence at a specific location precisely to within 2 mm; therefore, it is very well suited for detection in fibers that are insensitive to bending.
This measurement device also identifies locations of internal reflection and changes in birefringence in the optical path of fiber-optic components reliably; for this reason, it is used in the quality control of optical components.
The PolaMagic OFDR-1000A can be operated with tunable C band and L band laser sources from third party providers. Oftentimes, existing sources can be used, which minimizes the investment costs of OFDR measurement.
Further product information:
Polarization Measurement Instruments

Manufacturer:
General Photonics
Contact:

Contact Person:
Florian Tächl
Company:
Laser Components GmbH
Address:
Werner-von-Siemens-Str. 15
ZIP / City:
82140 Olching
Phone:
+49 (0) 8142 2864-38
Fax:
+49 (0) 8142 2864-11
Email:
f.taechl@lasercomponents.com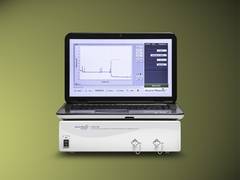 OFDR-1000A – Optical Frequency Domain Reflectometer

Downloads: